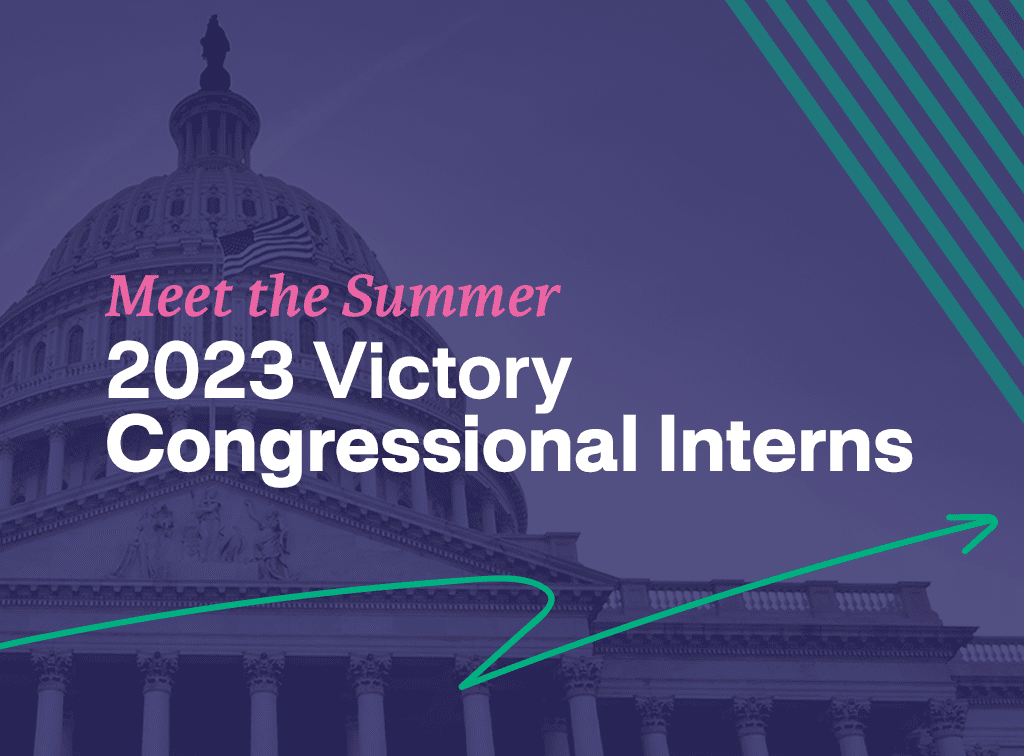 Meet the Summer 2023 Victory Congressional Interns!
We are so proud to announce and introduce the Summer 2023 Victory Congressional Intern cohort. This cohort of 16 incredible emerging LGBTQ+ leaders are joining the 12th year of the program and continuing the legacy of LGBTQ+ Victory Institute to increase LGBTQ+ representation in all levels of government.
The Victory Congressional Internship (VCI) is developing the next generation of out public leaders. This summer's eight-week program will include a rigorous in-person weekly leadership development series, community outreach, and mentorship component. The LGBTQ+ Victory Institute is proud of our continued and growing partnership with the Congressional Equality Caucus, its members, and other LGBTQ-friendly members of Congress.
Throughout the semester, the interns will blog about their experiences in the Out on the Hill blog on our website. Get to know our interns more by following along!
A brief overview of our Summer 2023 LGBTQ+ Victory Congressional Interns:
——————-
Jacob Aznavoorian (he/him)
Hometown: Brooklyn, NY
School: Boston University
Placement: Rep. Jimmy Gomez (CA)
Jacob Aznavoorian is a second-year undergraduate student at Boston University studying Political Science with a minor in Public Policy Analysis. He is an experienced leader who tirelessly advocates for himself and others. Born and raised in Brooklyn, New York, Jacob embodies the driven and hard-working nature of a "Brooklynite." Jacob is heavily invested in his communities, whether at Boston University or in New York. He serves as the Academic Affairs Director in his college's student government and the Vice-President of Events in the Pride in Business organization. As a first-generation college student, Jacob finds it important to support underrepresented communities.
Last year, he held a Financial Aid Workshop at his large private university to level the playing field. At home, he worked on the Andrew Gounardes state senate campaign, helping engage voters in a typically low-turnout primary election. Jacob is passionate about economic equity issues, such as raising the minimum wage and making a college education more accessible for all. He also reveres our legal system and hopes to attend law school upon graduating from BU. Jacob loves to explore different foods and the arts; everyone knows that when he picks the place – it's top-notch.
Payton Belvin (she/her)
Hometown: Charlotte, NC
School: University of North Carolina at Chapel Hill
Placement: Rep. Ritchie Torres (NY)
Payton Belvin is a current junior at the University of North Carolina at Chapel Hill with a major in Public Policy and a minor in Philosophy, Politics, and Economics. She has been on the Dean's List twice and is originally from Charlotte, North Carolina where she graduated from Merancas Middle College High School with a 4.5 grade point average. Beyond her coursework, Payton Belvin is also involved in a multitude of extracurricular activities, such as the Black Student Movement, where she currently serves on the LGBT Visibility and Engagement Committee as well as the Celebration of Black Womanhood Committee.
Additionally, she is a member of Phi Alpha Delta Pre-Law Fraternity and a volunteer shift leader with UNC Chapel Hill's campus food pantry, Carolina Cupboard. She also works as an Office Assistant with Carolina Housing. Payton Belvin has a strong passion for improving the well-being of her community and is excited to bring about positive change in America by helping to create and pass equitable and inclusive policies.
Melanie Dawson (she/they)
Hometown: Twin Falls, ID
School: The College of Idaho
Placement: House Democratic Caucus, Chairman Pete Aguilar (CA)
Melanie Dawson is a first-generation student at the College of Idaho. Inspired by her studies as a political economy major, Melanie sees feminist struggles for reproductive freedom and labor struggles for liberation as intimately connected. She's experienced this first-hand as she organized worker rallies to create the first unionized Starbucks in Idaho. Inspired by the striking workers in Buffalo, they joined Starbucks Workers United, and she helped pen the letter that was sent to CEO Howard Schulz on behalf of the nation's workers. However, in the summer of 2022, when the Dobbs decision was released and activated an Idaho trigger law instantly banning abortion after 6 weeks, it was the same workers who labored to unionize who reached out and helped Melanie organize her first pro-choice protest. This eventually led her to speaking in front of the Capitol of Idaho alongside local and state leaders, registering voters and writing letters to her lawmakers.
These experiences of helping advocate for both herself and others has led her to pursue a career in labor law to fight for workers' rights and dismantle corporate greed. In her free time, Melanie plays bass in a small indie band and reads Zizek.
Cecilia Espinosa (she/her)
Hometown: Oswego, IL
School: University of Illinois at Urbana-Champaign
Placement: Rep. Robert Garcia (CA)
Cecilia Espinosa was born in Chicago, Illinois and raised in Oswego, Illinois where she now attends the University of Illinois at Urbana-Champaign. She is a first-generation college student currently studying a double major in Political Science and Communications and a double minor in Spanish and Business on the pre-law track. She is involved in many organizations on campus such as the Student Alumni Ambassadors, Students Consulting for Nonprofit Organizations, an Ambassador for La Casa Cultural House and an intern for the College of Liberal Arts and Sciences. She works at the University of Illinois Foundation with a role as a Student Development Representative where she communicates directly with alumni and friends of the University of Illinois system to reach fundraising goals for scholarships and colleges. In 2 semesters, she has personally raised over $20,000 in funds and has a passion for fueling progress at the university and is proud of where she attends school.
She hopes to graduate and attend law school to pursue a career in public policy and advocate for underrepresented communities across the United States.
Raymond Falkiewicz (they/xae)
Hometown: Canton, MI
School: Western Michigan University
Placement: Rep. Chris Pappas (NH)
Raymond Falkiewicz is a senior at Western Michigan University, studying Psychology and Interpersonal Communication. They currently work in both Diversity, Equity, and Inclusion for a healthcare non-profit and as a College Peer Educator for Planned Parenthood of Kalamazoo. They have a passion for inclusive sexual health, diversity & inclusion, and healthy communication practices. In the future, they hope to work in advocacy of and education on these subjects. In their spare time, Raymond enjoys reading, drawing, listening to Halsey, playing card games with their parents, and taking their puppy for nature walks.
Levi Fiedler (they/them)
Hometown: Lake Jackson, TX
School: Texas A&M University
Placement: Rep. Sharice Davids (KS)
Levi Fiedler is a junior Economics major at Texas A&M University, where they are actively engaged in groups and organizations dedicated to pursuing equity for disadvantaged groups. They are the president of a peer diversity education program and a diversity-focused leadership program as well as the founder of a network for LGBTQ+ women and nonbinary people meant to promote community and advocacy on campus. After graduating in May 2024, Levi intends to continue their work in the LGBTQ+ advocacy space connecting non-profit organizations with other groups, including the government, and to one day use their experience, talent, and passion for public speaking to advocate for the rights and dignity of all people.
Whether they are drafting plans for disability accessible LGBTQ+ lobbying events, facilitating workshops on microaggressions, or collecting books to send to incarcerated LGBTQ+ people, they are always guided by the values of justice, community, and integrity instilled by their family and community.
Jaden Gerard (she/they)
Hometown: Burbank, CA
School: Smith College
Placement: Rep. Mark Takano (CA)
Jaden Gerard is a junior undergraduate student at Smith College in Northampton, Massachusetts, and a fierce advocate for LGBTQIA+ rights and representation. Jaden has focused their college career and future on the advancement of LGBTQIA+ issues through research of local and state education law and policies, to increase representation and positive outlooks for the LGBTQIA+ community in educational environments. Among other things, Jaden is Political Director of Smith Democrats and spent the 2022 midterm elections actively canvassing to get out the vote, both on and off campus. Jaden plans on obtaining dual graduate and legal degrees to further their goals, and plans on championing policy efforts to create state-level public acts incorporating protections for LGBTQIA+ students and queer narratives in state educational materials.
In addition to her political activism and interests in government and queer studies, Jaden enjoys reading for pleasure, walking through the woods on a rainy day, attending jazz concerts, and brewing exotic teas.
Sueli Gwiazdowski (they/she)
Hometown: San Diego, CA
School: Whitman College
Placement: Rep. Debbie Dingell (MI)
Sueli Gwiazdowski, originally from San Diego, California, is a Junior at Whitman College majoring in Rhetoric, Writing, and Public Discourse. Her experiences as a Disabled, first-generation, working-class, Latina, queer student shaped her initial approaches toward civil rights work, and she is especially passionate about the intersection of disability and education. Sueli is a winner of the 2022 Heumann-Armstrong Award, the founder and president of Whitman College's first-ever Disability affinity group, co-president of a San Diego-based illness-specific support group, and was most recently an intern at the Department of Labor's Office of Disability Employment Policy. Recently, Sueli participated in the American Association of People with Disabilities (AAPD) 2022 Summer Internship Program in D.C., and was a Law Fellow at Loyola Marymount Law School's Coelho Center for Disability Law, Policy, and Innovation in the 2021-2022 class year.
In 2020, Sueli began participating in Parliamentary Debate with the Whitman College Debate team, as a recipient of the Stephen J. Boyles Presidential Scholarship in Debate and interned for the Department of Education's Office of Civil Rights.
Hope Hjelmeland (she/her)
Hometown: Rutland, IA
School: University of Iowa
Placement: Rep. Becca Balint (VT)
Hope Hjelmeland is a third-year undergraduate student at the University of Iowa double majoring in Economics and Public Policy and Ethics. She is also minoring in Gender, Women's, and Sexuality Studies. Hope grew up in small town Iowa, where she learned to be her true self despite what others think. She is a proud first-generation student who is involved in TRIO SSS and is starting a student organization on campus for Bright Scholars like herself. She plans to graduate in 2024 and further her education, either pursuing a master's degree or law school.
Hope is passionate about various parts of public policy, especially activism in socio-economic inequality, LGBTQ+ activism, and women's rights. She has always enjoyed helping others and wants to spend more of her time in the future in Washington, D.C. influencing policy. In her free time, she enjoys spending time with her family, friends, and pets. Her favorite activities include longboarding, reading, and watching the stars. She also dreams of traveling and loves visiting new places.
Zachary Koung (he/they)
Hometown: Ellicott City, MD
School: University of Pennsylvania
Placement: Rep. Mike Quigley (IL)
Zach Koung is an undergraduate at the University of Pennsylvania. They are working towards a Bachelor of Arts in Political Science and minors in Gender, Sexuality, and Women's studies and Survey Research and Data Analytics. Zach has been admitted into the Penn Graduate School of Education and will attend for an MSEd in Education Policy.
In 2020, Zach began their term as a member of the Howard County Board of Education. During Zach's term as a Board of Education member, they pioneered the efforts for LGBTQ+ inclusivity by passing a policy unanimously to develop an LGBTQ+ studies course, which is now offered to high school students. Zach was a founding member of the It Gets Better Project's Youth Voices Initiative. Through this initiative, he presented at many different functions about LGBTQ+ education policy, including SXSW EDU, NYC Pride 2022, The ILGA World Conference, Teach for America, and various other conferences.
Most recently, Zach has been working with the Human Rights Campaign, spending a summer in the Washington, D.C. office working to support HRC's efforts to pass the Respect for Marriage Act. Ahead of the midterms, Zach worked in Philadelphia as an organizer and now sits on the HRC Philadelphia Steering Committee.
Zachary Owen (he/him)
Hometown: Union, KY
School: University of Kentucky
Placement: Sen. Jon Ossoff (GA)
Zachary Owen is a current undergraduate honors student at the University of Kentucky studying Public Policy and Community & Leadership Development from Northern Kentucky. Zachary has an abundance of experience with LGBTQ+ advocacy after serving in the City of Atlanta's Division of LGBTQ Affairs and on the University of Kentucky Martin School of Public Policy's Diversity, Equity, & Inclusion Board.
In addition to his policy experience, Zachary consistently volunteers with local nonprofits to decrease food and housing insecurity for Lexingtonians. He plans to graduate in 2025 with his Master of Public Policy and enter the world of public service as a policy advisor with a focus on healthcare and housing policy. In his spare time, Zachary enjoys playing board games, going bowling, and trying new local restaurants.
Veronica Penales (she/her)
Hometown: Shreveport, LA
School: Baylor University
Placement: Rep. Adam Schiff (CA)
Veronica Penales will be a graduate of Baylor University in May 2023. She is also a proud 2022 Truman Scholar. She hopes to earn her JD/MPP and dedicate her life to being an advocate for marginalized and disenfranchised individuals, and potentially run for public office.
Veronica recognizes that we are living in some of the most trying times of our nation and democracy. She has seen how it has been difficult to keep hope in such challenging times. At her own University, she knows it has been hard to keep pushing for the issues that she is most passionate about, to keep pushing for a university that tests her ability to live as herself daily. However, her experiences against discrimination at Baylor and in Texas have shown her that there is a special feeling that comes from making change against all odds and proving that living as yourself—your whole self—is worthy of celebration, not hate. This is a feeling that she wants to continue chasing after throughout her life dedicated to being a public servant. Her biggest inspiration is her younger brother, and she hopes to continue fighting for a more equitable society for the rest of her career.
Lauren Schenk (they/she)
Hometown: Oak Ridge, TN
School: Macalester College
Placement: Sen. Michael Bennet (CO)
Lauren Schenk attends Macalester College in St. Paul, MN as a Questbridge scholar. She is currently a Junior studying Sociology & Women, Gender, and Sexuality Studies. They have worked on the #FreeThePill campaign for the past 4 years, working to make birth control pills available over the counter in the U.S. Lauren has also worked with Pro-Choice MN on her campus to fight for abortion rights and the Sexual Violence Center to support local communities. They dream of receiving a master's in public policy after graduating. In her free time, Lauren loves to read and cross-stitch.
Eric Thomas (he/him)
Hometown: Winchester, VA
School: Virginia Tech
Placement: Rep. Madeleine Dean (PA)
Eric Thomas is a junior undergraduate student at Virginia Tech double majoring in International Relations and French. On Virginia Tech's campus, Eric serves as the president of Mozaiko, an intercultural residential community of language learners, as well as the university's French Club. He is passionate about LGBTQ+ rights and representation, advancing equity in public education, and fostering intercultural competence. With plans to one day make higher education more accessible, Eric is committed to advocacy for the marginalized communities that raised him to believe he can do anything he sets his mind to.
As a proud gay man and student leader, Eric had the honor and privilege of serving on a committee that designed and implemented Virginia Tech's first residential community for LGBTQIA+ students. After graduating from college in May 2024, Eric looks forward to pursuing a master's degree in public policy. With his degrees, he plans to work with community leaders across the nation to advocate for advancing the civil rights of LGBTQIA+, BIPOC, and Latinx communities. When not on Virginia Tech's campus, you can find Eric salsa dancing around Virginia or striking up a conversation with a stranger.
Devon Whitsel (he/him)
Hometown: Rockdale, TX
School: University of Texas at Austin
Placement: Rep. Lloyd Doggett (TX)
Devon Whitsel is a third-year Government and Political Communications student at the University of Texas with a passion for LGBTQIA+ advocacy in the areas of law, politics, and society. He is a first-generation college student and 2020 Terry Scholar — a member of the 30-person cohort that received a full-tuition scholarship from the Terry Foundation based on leadership, merit, and community involvement. At UT Austin, Devon is part of the Liberal Arts Council where he helps write and enact legislation aimed at improving student experiences and is a proud Texas Tour Guide.
Outside of school, Devon is passionate about advancing the lives of Queer Texans by testifying in front of legislative committees on bills, attending rallies, and interning in the Texas House of Representatives. After obtaining his undergraduate degree, Devon plans to attend law school and then return to his community to lead, advocate, and represent them in the halls of Congress.
Brooke Zanon (she/her)
Hometown: Phoenix, AZ
School: Arizona State University
Placement: Sen. Kyrsten Sinema (AZ)
Brooke Zanon is a senior undergraduate student at Arizona State University (ASU), Barrett, The Honors College, double majoring in Global Studies and Political Science and minoring in French. She is passionate about international relations, local politics, gun violence prevention, and LGBTQ+ rights. On campus, Brooke is an International Project Assistant for ASU's Office of Global Academic Initiatives, works as a Barrett College Research Fellow, and is currently completing her honors thesis on LGBT rights in African countries.
Off-campus, she sits on the board of Arizonans for Gun Safety and has held numerous positions at the Arizona State Senate. After graduating, she plans to attend law school. In her free time, Brooke enjoys volunteering at the Arizona Humane Society and watching movies with her family.